There is growing evidence that diet does have a significant effect on health, including longevity. What we are learning is that what we have traditionally grown so much in the United States - corn and corn fed animals, are likely not what is best for our health.
What foods are healthy? There is growing evidence that what is called in medical literature "The Mediterranean Diet" is the
healthiest palatable diet
available. Among sources of protein, fish is clearly most strongly associated with longer life. Limiting red meat to once weekly, and white meat (poultry) up to 3-4 times weekly, also helps.
Also very important to the health effects of the Mediterranean Diet is olive oil. People who have a diet high in extra virgin olive oil also have a decreased mortality rate. It is important that olive oil be extra virgin (minimally processed), and that means it is best to grow it close to home. Olives can be grown in only a
few select southern locations
in the United States, ideally in zone 10 and 11, but some varieties in zone 8 and 9. Olive trees
have a tap root
, meaning they send a root down deep into the soil to have access to
capillary water
. Because of this tap root, it is very difficult to establish olive trees without irrigation - that was until the
Groasis Waterboxx
.
The
Groasis Waterboxx
is a intelligent tree incubator that collects dew and rainwater, stores it, and slowly tunnels it to the roots of a growing plant. It prevents water from evaporating from the soil, establishing a water column immediately beneath the plant. In the case of the olive tree, this induces the tap root to grow straight and deep until it can tap into the underground moisture of soil capillaries. The Waterboxx can then be removed and reused the the
Waterboxx
established tree will be much more drought resistant in the future.
Besides extra virgin olive oil, it is believed grapes (and especially wine) contribute to the health effects of the Mediterranean Diet. Grapes need consistent but not excessive moisture, something the
Waterboxx
excels at providing. The
Waterboxx
has been used at the Mondavi Winery in California, in the wineries of our customers, and as seen below, in Chile to grow grapes.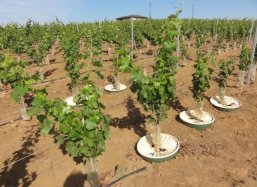 The Waterboxx growing grapes in Chile; From Groasis
Nuts are also very important in the healthy Mediterranean Diet. Nut trees offer great pleasure in the landscape both for beauty and nut production, but can be very hard to establish as well due to their tap root. If growing trees for nuts, it is important to get a grafted tree from a reputable nursery (we recommend
Stark Brothers
) to get the best yield of nuts as early as possible. When investing in grafted trees, any with trunks less than 2 inches in diameter can be planted using the
Groasis Waterboxx
. The
Waterboxx
allows you to water planted nut trees only at planting (with 4-10 gallons in the soil and then 4 gallons in the Waterboxx basin) and then only revisit them to watch their progress or remove the
Waterboxx
when the tree outgrows it.
Fruits and vegetables are also a very important (and tasty) part of the Mediterranean diet. We have found that starchy row crops (corn, wheat) are great sources of large numbers of calories, but are not particularly healthy. Vegetables like cucumbers, eggplant and tomatoes (which can be considered a fruit), are easily grown with the
Waterboxx
. Vine fruits like watermelon and cantaloupe can also be grown with the
Waterboxx
. You can see examples of all of these garden staples at our
main website
, www.dewharvest.com.
Zucchinn grown with the Groasis Waterboxx - originally from Groasis.com
What about greens? One Dew Harvest in Hemet, California came up with an ingenious was to grow greens in the
middle of a drought
by filling the Waterboxx only once weekly. He added three extra wicks, attacked absorbent material to these wicks, spread this out in a raised bed, and planted greens on top of this Waterboxx irrigated soil.
As you can see, you can begin to grow healthy Mediterranean Diet food in one growing season, and begin planting trees that will yield nut and olives in a few short years. All of this is made possible by the Groasis Waterboxx, which can be purchased from
Dew Harvest LLC
.
If you would like to learn how to
grow plants without watering
with the Waterboxx, the best resource is the book
The Waterboxx Gardener: How to Mimic Nature, Stop Watering, and Start Enjoying Your Garden
available
here
on Amazon.com.